2020 Toyota 4Runner Towing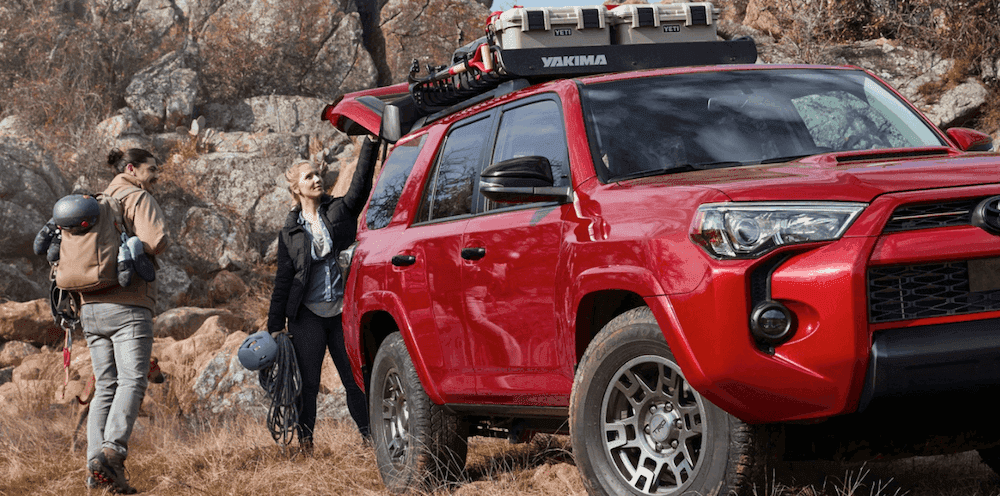 Off-road enthusiasts in the Normal area know that the 2020 Toyota 4Runner is a formidable SUV on local trails, but how much can a Toyota 4Runner tow? Across all trim levels, the Toyota 4Runner towing capacity reaches a maximum of 5,000 pounds*. Born for adventure, the new 4Runner is equipped standard with all of the towing features and accessories you'll need for your next camping or fishing trip near Morton. Before you hit the road, learn more details about the 4Runner SUV's capabilities with Sam Leman Toyota Bloomington, below!
4Runner Towing Features
Thanks to the following features that come standard on every 4Runner configuration, you can tow with confidence through Springfield:
Integrated Towing Hitch Receiver – Built for effortless functionality, every 4Runner trim is equipped with a hitch receiver. You'll be ready to start trailering as soon as you leave our dealership in Bloomington!
Wiring Harness with 4- and 7-Pin Connectors – Hook up your trailer lights with ease, ensuring your safety in Bloomington.
4.0L V6 Engine – This robust engine ensures your 4Runner is able to perform, even while towing at the maximum capacity. It generates up to 270 hp and 278 lb-ft of torque.
What Is an SAE J2807 Towing Rating?
An SAE J2807 towing rating encompasses several requirements and tests created by the Society of Automotive Engineers (SAE). It is designed to ensure that the towing ratings of SUVs and trucks are measured objectively, setting specific requirements for the following components:
Structure
Ballast
Chassis
Tires
Engine power, hitch structure, and overall vehicle dynamics are also taken into consideration. Using these objective standards, we can get a more accurate measurement of a vehicle's true towing capacity.
Not all automakers use SAE standards when listing their vehicles' towing capabilities, which can lead to future troubles for drivers who are unknowingly towing beyond their vehicle's actual capacity. Fortunately, the Toyota 4Runner towing capacity of 5,000 pounds was figured using SAE J2807 standards.
4Runner Towing vs. the Competition
You now know the answer to "how much can a Toyota 4Runner tow?", but how does the 5,000-pound capacity compare to other SUVs? Take a look at the Toyota 4Runner towing capacity vs. the top competition, below:
2020 Toyota 4Runner SR5 FWD – 5,000 pounds
2020 Honda Pilot LX FWD – 3,500 pounds
2020 Jeep Grand Cherokee Laredo 4×2 – 3,500 pounds
2020 Jeep Wrangler 4-Door Sport – 3,500 pounds
Adventure Awaits at Sam Leman Toyota Bloomington!
Now that you know how much a Toyota 4Runner can tow, it's time to choose the perfect 4Runner for you. When you're ready to make the upgrade to a 2020 Toyota 4Runner, the team at Sam Leman Toyota Bloomington is here to make it happen. Contact us to arrange a test drive, and be sure to take a moment to browse our new vehicle specials for a great savings opportunity! If you're shopping on a budget, consider our pre-owned 4Runner inventory. Not sure that the 4Runner is the right Toyota SUV for you? Check out our 4Runner vs. Highlander comparison.
Disclaimers:
*Before towing, confirm your vehicle and trailer are compatible, hooked up and loaded properly and that you have any necessary additional equipment. Do not exceed any Weight Ratings and follow all instructions in your Owner's Manual. The maximum you can tow depends on base curb weight plus the total weight of any cargo, occupants, and added vehicle equipment. "Added vehicle equipment" includes additional standard/optional equipment and accessories added by the manufacturer, dealers, and/or vehicle owners. The only way to be certain of your vehicle's exact curb weight is to weigh your vehicle without passengers or cargo.