A trusty sedan is one of the best options to make it through the streets of Bloomington, Decatur, and Peoria with its reliable performance and comfortable interior. But, finding the right one can be tough. Sedans are the most popular class of car in the country, so the market for them is incredibly competitive.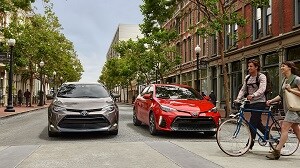 We want to ease your search, however, so we've compiled this handy car comparison, pinning two of the best sedans available against each other. The 2018 Toyota Corolla and the 2018 Nissan Altima are among the best in their class, but one can be better suited for you. Learn more about what these incredible sedans can offer and discover which is best suited for your needs in our Toyota Corolla vs. Nissan Altima comparison.
Toyota vs Nissan Convenience
Sedans are typically very easy to drive, and that's true for both these incredible examples. However, you might find maneuvering in the Corolla less of a chore since it has a turning diameter of only 35.6 feet. The Altima, on the other hand, can only manage a turning diameter of 37.4 feet, which could make city driving a bit more tedious.
The Corolla will also allow you to spend more time away from the gas station. This sedan is one of the most efficient on the market, earning an EPA-estimated 40 highway/30 city MPG. The Altima is impressive as well, but it only features an EPA-estimated 38 highway/27 city MPG.
Corolla vs Altima Interior
No sedan is worth it without a comfortable interior, either, and you'll have plenty of space no matter which of these sedans you choose. However, your rear passengers might have a better time in the Corolla. The Altima features 36.1 inches of rear legroom which is about what you'd expect from a sedan with a comfortable backseat. Your tall friends are sure to appreciate the Corolla more, though, due to its incredibly generous 41.4 inches of rear legroom.
Remember, this is despite the fact that the Altima is nearly 10 inches longer than the Corolla. In addition, the Altima doesn't feature headrests for your rear passengers, while the Corolla includes them standard on their most basic model.
Toyota Corolla and Nissan Altima Safety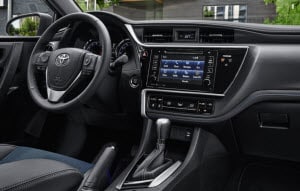 Speaking of standard features, take a look at the Corolla's incredible driver assistance suite known as Toyota Safety Sense™. With this in place, you can enjoy a variety of driver assistance features such as pre-collision detection and emergency braking that not only scans for imminent collisions with other vehicles but for pedestrians, as well. 
The Altima comes with Nissan Safety Shield, but only some features are standard rather than all like on the Corolla. In addition, only the Corolla includes front knee airbags.
Toyota Corolla vs Nissan Altima: Verdict
At the conclusion of our Toyota Corolla vs. Nissan Altima comparison, the 2018 Toyota Corolla emerges victorious. With its superior interior, convenience and standard safety features, the Corolla is the ideal choice for drivers in the Bloomington, Decatur, and Peoria areas looking for a new sedan. Come visit Sam Leman Toyota and see for yourself everything the Corolla can offer. Our friendly team is happy to help every step of the way. Visit us or call 888-378-0672 to schedule your test drive today!